World Class Driving School Collingwood 
Welcome to World Class Driving School, where we are dedicated to teaching safe driving practices to students of all ages and skill levels. Our Collingwood-based Ministry Approved BDE Driving School prides itself on our team of top-rated and highly experienced driving instructors, who are passionate about sharing their knowledge with others.
WCDCTO Is a "Ministry-Approved BDE Course Provider" and "MTO-Approved BDE Course Provider".
Register today with World Class Driving School and start driving with confidence!
Our Next In person courses are Dec 28,29,Jan 4, 5. 4 Day Express Jan 2,3,4,5 2024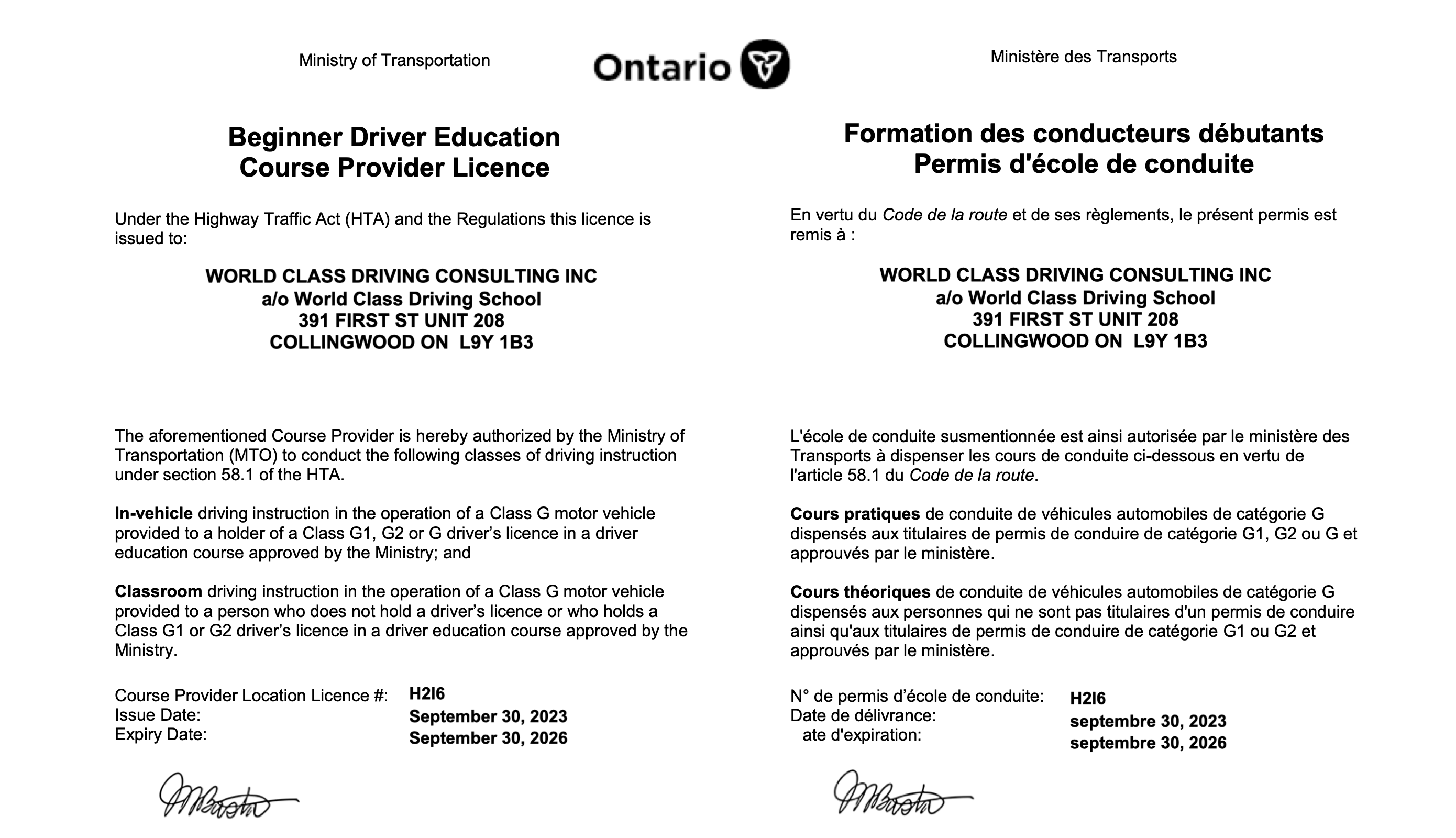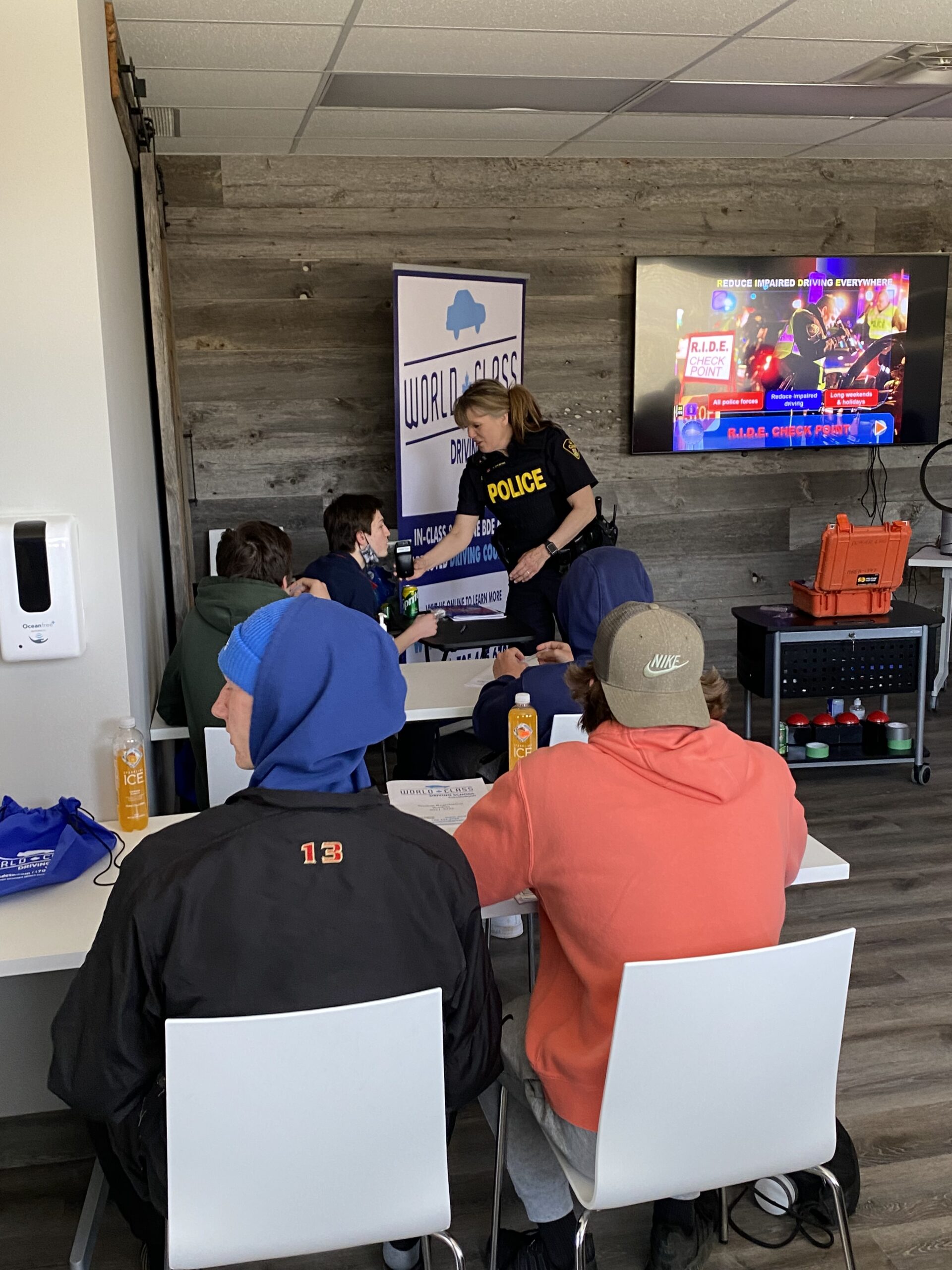 Provincially Approved Driving Instructors
Our Driving School has a Team of Provincially  Approved Driving Instructors In Collingwood, Flesherton and Toronto with over 35 years of teaching experience that will prepare you to become a safe driver.
Our Vehicles
Our Driving School has a morden fleet of 2023 Nissan Kicks all equipped with the latest safety features.
Auto-Insurance Discounts
The Driver's Licence History provides proof of successful completion of and graduation from a BDE Course and is widely recognized by the insurance industry as proof of course completion.
BDE Graduates with a Driver's Licence History may be eligible for an Insurance discount
Client's can obtain proof of completion at any Service Ontario location for a fee of $12.00
Different Driving Lesson Packages Options that suits your scheduling
We provide private lessons upon request.  Novice and Mature Drivers. In Person Classroom, E-Learning or Our ZOOM Course Select a course that works best for your scheduling.
MTO-Approved BDE Course Provider 
C
ollingwood In Classroom Schedule:
* December 28,29, Jan 4,5 Weekdays 
*January New Years 4 Day Express Jan 2,3,4,5 2024 
*January 20,21,27,28 Weekends
*
February 3,4,24,25
* February  17,18,24,25 
*March 2,3,13,14 & March 11,12,13,14 
4 Day Express In Classroom March 11,12,13,14 2024
20 Hours In Classroom
10 Hours of Homework
10 Hours of Private in Car lessons 
40 Hours As per BDE-MTO 
Lessons 1:1 with our Instructors
MTO-Approved BDE Course Provider
Online 30 Hour Theory Course Start Today
30 Hours of Online Course.
10 Hours of In Car lessons
40 Hours As per BDE-MTO 
Lessons are 1:1 with our Instructors
Individual Lessons and Drive Test Packages  
Customized private lessons
G1 and G2 test preparation
Mature / Senior Driving Packages    
Driving Lessons for Clients facing 3-part Testing for HTA Matters 
Loved the class, well done and very professional. Romans has been great.
Roman you are amazing! The course was engaging and a great way to lean and keep things fun, without a doubt a great opportunity for those wanting to learn how to drive in a supportive and fun environment!
Love the class with Roman as an instructor, very engaging and would recommend to anyone trying to get their G2 early.
Roman runs an amazing course that is super engaging and informative and a great way to learn how to operate a vehicle on the roads safely.
Roman makes the 5 hour in class time very entertaining and a fun time of driving education!
Great class learned a lot. Roman is the GOAT
Roman is the goat and an amazing teacher
The in-class portion of this course was terrific and very helpful. Mr. Wonderful (Roman) made it engaging and fun while still being very educational. The friendly environment has made learning to drive exciting while being safe. I highly recommend this course.